Dental implants are an excellent long-term option for restoring your smile. Not only can implants be used to replace single missing teeth - they can also aid in replacing multiple missing teeth or a full set. They are designed to blend in with your other teeth, and even fuse with your own bone to become a part of your body, much like your natural teeth.
Dental implants have several advantages over other solutions, such as fixed bridges. Implants:
Often last a lifetime.
Do not compromise healthy neighboring teeth.
Can be brushed or flossed like your natural teeth.
Are less costly long-term.
We use 3-D imaging to plan your case, so there's no guesswork on the day of placement. Schedule your consultation with us to see if you're a candidate for dental implants.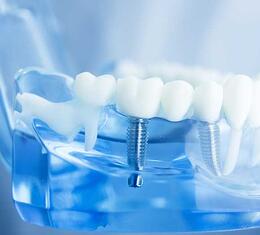 Click here if you'd like a virtual Dental Implant consultation via web call:
Complete this form for an in-office consultation: