SCHEDULE YOUR INVISALIGN ASSESSMENT
STRAIGHTER TEETH IN LESS TIME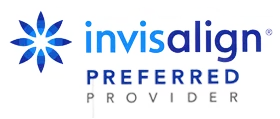 Invisalign® is the invisible way to straighten your teeth without braces. Invisalign® uses a series of clear, removable aligners (retainers) to straighten your teeth without metal wires or brackets. Invisalign® has been proven effective in clinical research and in over 100,000 patients nationwide.
You may be surprised to know that the benefits of having properly aligned teeth extend far beyond a confident smile. According to the American Dental Association, straightening your teeth can significantly affect your overall dental health. Think about it — a smile can hardly be perfect if it's not a healthy one. Fortunately, with Invisalign®, having a confident smile and reducing your risk for tooth decay and gum disease go hand in hand.
Click the video to watch the transformation from one of our patients, showing the gradual movement of her upper and lower teeth over her 6 month Invisalign treatment.
INVISALIGN VS. BRACES
Mfd InvisalignWhile the results may appear the same—a confident, beautiful smile—when you stop and actually compare Invisalign® to other teeth-straightening options, the advantages become quite apparent. Knowing the pros and cons of each option ahead of time will help you make a more confident decision.
Braces require brackets and wires that can poke your mouth. Brushing and flossing requires more effort, and there many food restrictions. In comparison, Invisalign uses smooth, comfortable plastic aligners. They are removable for easy cleaning, and you can eat whatever you want.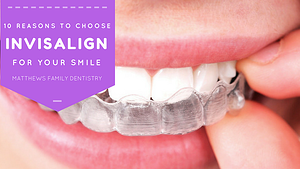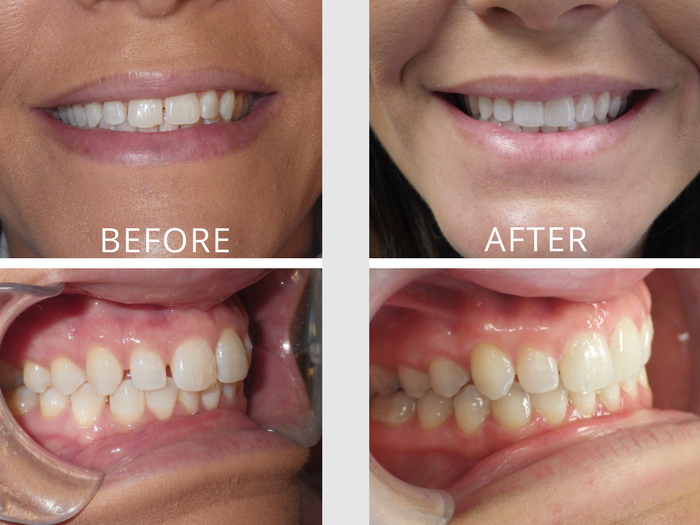 OUR PATIENT'S CASE: ALISHA
Our patient Alisha had not been happy with spaces between teeth, and had been considering correcting it for a long time. She was excited when she found out she was a candidate to use Invisalign. Her Invisalign treatment plan lasted approximately 6 months, using a series of clear aligners that would progressively move her teeth into the proper position. The adjustments not only closed the gaps in her teeth, but also reduced her overbite. We followed up the Invisalign treatment with custom teeth whitening. To keep her teeth in position she will continue to wear retainers nightly. She is thrilled with the results!
HOW DOES INVISALIGN TREATMENT WORK?
Your Invisalign® clear aligners are custom-made for you. The aligners are virtually invisible and fit snugly over your teeth.
Each aligner shifts your teeth slightly, moving them horizontally and vertically and even rotating them when needed. Your aligners are engineered to use the right amount of force in the right place at the right time.
When you change to the next set of aligners (typically every week) your teeth gradually move into position, following a custom treatment plan mapped out by your doctor.
Only Invisalign clear aligners are made of proprietary, multilayer SmartTrack® material to gently shift your teeth into place.
ITERO SCANNER: YOUR DIGITAL INVISALIGN EXPERIENCE
Clear aligners are fun, but it takes a lot of precision and time to make impressions on your teeth. It doesn't matter if you have some crowding or a biting problem, it is now easier than ever to straighten teeth efficiently and quickly with the new ITero scanner.
The new technology allows your dentist to get a 3D high-resolution, interactive image of your teeth without the need to make messy putties or molds. The iTero scanner can be extremely precise
From the makers of Invisalign clear aligners, the ITero scanner takes 6,000 images per second to create an exact replica of your teeth. In the meantime, allows you to compare records and keep track of your dental health as well. 
Your dentist will be able to create a 3D model of the teeth for you in just minutes. This allows you to create your Invisalign treatment plan. Your dentist can quickly send your scans within minutes so that your aligners can be created. 
Talking to your dentist about your dental health has never been easier. The iTero bridges the gap between provider and patient, allowing you to communicate more quickly and form your treatment plan.
REQUEST YOUR COMPLIMENTARY INVISALIGN CONSULTATION
Looking to align your teeth without those metal braces? Invisalign may prove to be the ultimate fix for your teeth alignment. It's the best dental procedure to correct your teeth alignment in an invisible way. It saves you the embarrassment that metal wires or brackets may cause.
This method is preferred over usual teeth alignment options like braces. Placement of braces is a painful procedure. Also it causes issues like gum bleeding, pain while chewing, need to do repeated brushing, swollen gums because of suck up food.
On the other hand, invisalign technique uses removable plastic aligners. Hence, you can easily clean your teeth. And you have wont have eating restrictions as well.These aligners are custom made and help in proper positioning of teeth. Invisalign for straighter teeth along with custom teeth whitening provides the best results.The aligners are made of clear invisible material. And they are moved horizontally as well as vertically. Hence your teeth will be gradually aligned.
Our patient Alisha's experience is a testimony of the proved benefits of this teeth positioning method.
Matthews Family dentistry values your perfect smile and comfort. Hence we chose the best material for creating clear teeth aligners. We create customised treatment plan for our patients for teeth alignment.