Restorative dentistry involves the diagnosis, prevention and treatment of oral diseases. Your dentist may suggest a treatment plan to restore teeth that are decayed, chipped, cracked, discolored or even missing. Teeth that are affected by any of these developmental or trauma-related defects can qualify for restorative care. Whether it's a filling, crown, implant or bridge, there are several options available depending on need.
Restorative dentistry is different to preventative dentistry in that it seeks to correct dental problems that are already in existence. The aim of restorative dentistry is to restore the appearance and function of teeth.This branch of dentistry also incorporates treatments from other dental fields, including endodontics, prosthodontics, and periodontics. This is because many patients require multifaceted care, which means they may require treatment from more than one specialist.
When deciding on a strategy for restorative dentistry, you'll need to consider both physical and fiscal factors—your health and your budget. Most dentists involved in restorative dentistry will try to preserve your natural teeth if possible before resorting to full or partial dentures so you won't have to remove and clean the devices regularly.
RESTORATIVE TREATMENT PLAN
Restorative treatment is based upon the results of an appropriate clinical examination. And is ideally part of a comprehensive treatment plan. The treatment plan shall take into consideration:
1. The developmental status of the dentition
2. A caries-risk assessment
3. Patient's oral hygiene
4. Anticipated parental compliance and likelihood of timely recall
5. Patient's ability to cooperate for treatment
Some restorative dentistry treatment is minimally invasive and can be performed by your dentist in one appointment. More complex dental treatment may require multiple dental visits. For example, restoration of primary teeth differs significantly from restoration of permanent teeth.There have been many recent advances in aesthetic dental care. And your dentist can discuss options that will enhance the effectiveness of your treatment, and what to expect following the procedure.
FILLINGS - AMALGAM (SILVER) & COMPOSITE (TOOTH-COLORED)
Fillings vary in complexity and material. Some are direct fillings, placed "directly" in a cavity, although others are indirect, wherein an impression of the tooth is taken and a custom filling is created to fit around it.
Dental amalgam is made from a combination of metals that include mercury, silver, tin, and copper. Sometimes described as "silver-colored" fillings, dental amalgam has been used by dentists for more than 100 years because it lasts a long time and is less expensive than other cavity-filling materials such as tooth-colored composites or gold fillings.
Because of their durability, these silver-colored fillings are often the best choice for large cavities or those that occur in the back teeth where a lot of force is needed to chew. Amalgam hardens quickly so it is useful in areas that are difficult to keep dry during placement, such as below the gum line.
Composite resins, or tooth-colored fillings, provide good durability and resistance to fracture in small- to mid-size fillings that need to withstand moderate pressure from the constant stress of chewing. They can be used on either front or back teeth. They are a good choice for people who prefer that their fillings look more natural.
Composites cost more than amalgam and you have to check it they are covered by your insurance plan. Also, no dental filling lasts forever. Some studies show that composite fillings can be less durable and need to be replaced more often than amalgam fillings. Tooth-colored fillings are now used more often than amalgam due to cosmetics. In a society focused on a white, bright smile, people tend to want fillings that blend with the natural color of their teeth.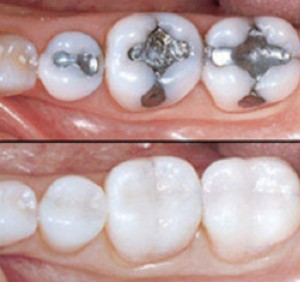 DENTAL BRIDGES
If you're missing one or more teeth, you may notice a difference in chewing and speaking. Bridges can help restore your smile.
Sometimes called a fixed partial denture, a bridge replaces missing teeth with artificial teeth and literally "bridges" the gap where one or more teeth used to be. Bridges can be made from gold, alloys, porcelain or a combination of these materials and are attached to surrounding teeth for support. Unlike a removable bridge, which you can take out and clean, a fixed bridge can only be removed by a dentist.
An implant bridge attaches artificial teeth directly to the jaw or under the gum tissue. Depending on which type of bridge your dentist recommends, its success depends on the foundation. So it's very important to keep your remaining teeth healthy and strong.
DENTURES
A denture is a removable replacement for missing teeth and adjacent tissues. It is made of acrylic resin, sometimes in combination with various metals. Complete dentures replace all the teeth, while a partial denture fills in the spaces created by missing teeth and prevents other teeth from changing position. Complete denture services are either "conventional" or "immediate."
A conventional denture is placed in the mouth about a month after all of the teeth are removed to allow for proper healing, whereas an immediate denture is placed as soon as the teeth are removed. The drawback behind an immediate denture is that it may require more adjustments after the healing has taken place.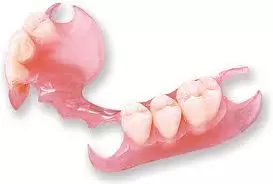 schedule your appointment now
For New Patients, Treatments & Cleanings