Cerec single visit crowns
CEREC 3D is a new technology that is used to replace failing restorations, broken teeth and old mercury fillings with beautiful full porcelain fillings or crowns in just one visit. CEREC uses Computer Aided Design [CAD] and Computer Aided Manufacturing [CAM] technology, incorporating a camera, computer, and milling machine all in one instrument. Using a special camera, the dentist takes a precise digital image of the prepared tooth, avoiding the traditional physical impression. This optical impression is transferred and displayed on a color computer monitor where the CEREC specialist designs the restoration utilizing 3D CAD technology. Then the CAM takes over and automatically creates the life-like porcelain restoration right in our office, while our patients enjoy a few minutes to make business calls, read a magazine or simply relax. Finally, the dentist bonds the restoration to the surface of the prepared tooth producing a "new" tooth that rejuvenates the smile instantly.
To learn more about what crowns are and how they can benefit you, click here.
Matthews Family Dentistry is proud to be one of only 14% of dental offices nationwide that use this technology.
For more info on the CEREC technology visit: CEREC Online
Watch this video clip of when Cerec 3D technology was featured on The Doctors TV show.
Matthews Family Dentistry is proud to offer Cone Beam CT Imaging in their office, a service that very few dentists are currently using!
Cone Beam CT scanning machines allow patients to sit upright in a chair while an arm rotates around their head, capturing multiple images of their head from different angles. The images will then be put together to produce a 3D image of the patient's anatomy. This advanced technology will help your dentist diagnose you more accurately and plan treatment and surgery accordingly.
The machines can be used to help diagnose a variety of dental conditions including impacted teeth, tumors, TMJ, periodontal disease, implants and more. The procedure is painless and non-invasive and is accessible to all our patients including those requiring handicap access. And because the scan time is shorter than with a regular CT machine, X-ray exposure for the patient is up to 10x less.
Contact the office today to find out how this exciting technology can make your treatment easier than ever!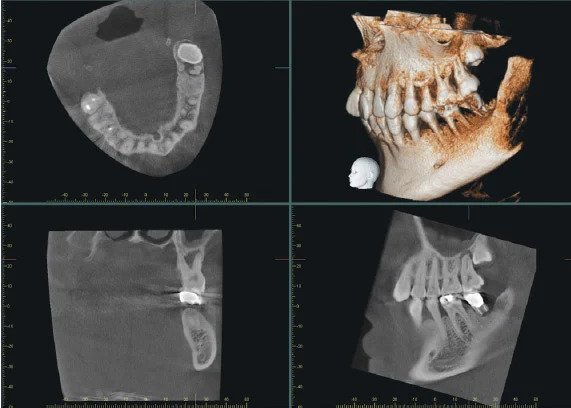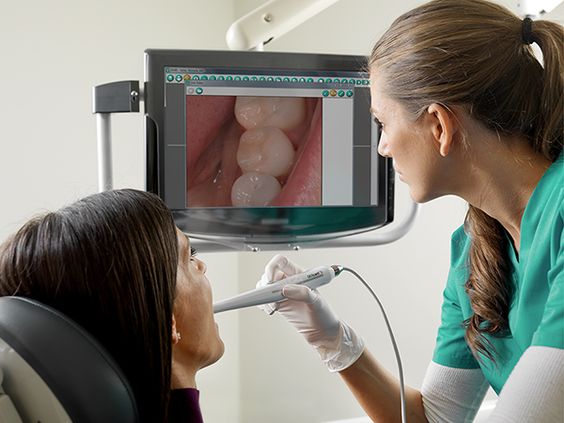 The Intraoral Camera is a great patient education tool that will improve both your comfort and understanding of any current dental conditions in a gentle, touch-less manner. Since the IOC wand is smooth, slender and contained, it will be unobtrusive in the oral cavity.
It is a comfortable miniature camera wand that will allow us to tour and capture magnified pictures of your current dental conditions, then display them on a monitor. The images will allow us to see fractures, leaks in fillings and deteriorating areas close-up, so we can discuss potential problems together. We will pair these visual findings with other traditional diagnostic tools to plan any necessary treatment. Further, these findings can be stored, shared with specialists, emailed with insurance claims, reprinted and cosmetically enhanced.
The digital x-ray uses an electronic sensor (not x-ray film) that captures and stores the digital image of the teeth on a computer. The image can be instantly viewed and enlarged thus helping the dentist and dental hygienist detect problems or issues quicker and easier. Digital x-rays also reduce radiation 80-90% compared to the already low exposure of traditional dental x-rays.
It is important to have dental x-rays done as they are used in preventative care and as a diagnostic tool that provides valuable information that is not visible during a regular oral dental exam. We use this information to safely and accurately detect hidden dental abnormalities and complete an accurate treatment plan. Without x-rays, problem areas may go undetected and an undetected problem will normally get worse.
Digital Dental x-rays can reveal:
Abscesses or cysts
Bone loss
Cancerous and non-cancerous tumors
Decay between the teeth
Developmental abnormalities
Poor tooth and root positions
Problems inside a tooth or below the gum line
Detecting and treating dental problems at an early stage can save you time, money, unnecessary discomfort, and your teeth.
Are Dental X-rays Safe?
Dental x-rays today are used judiciously by most practitioners and are necessary at regular intervals to detect and diagnose the disease at it's earliest stage. Dental x-rays have one of the lowest radiation doses. A routine exam which includes 4 bite wings is about 0.005 mSv, which is less than one day of natural background radiation. It is also about the same amount of radiation exposure from a short airplane flight (~1-2 hrs). The proper shielding with the use of the lead vest and thyroid collar make the risk even lower.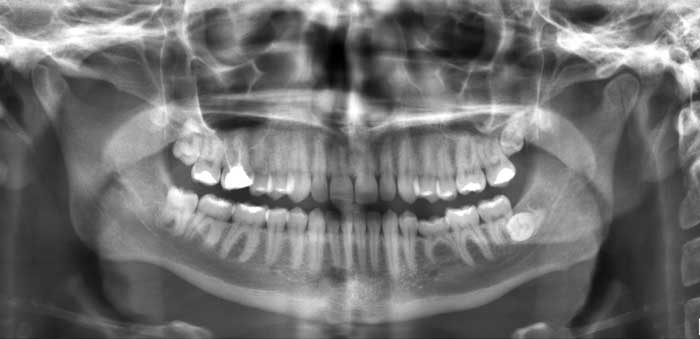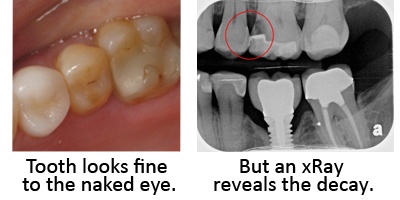 Schedule your appointment now
Stay up to date on your bi-annual hygiene visits
With Advanced Dental Technology available at Matthews Family Dentistry, we believe in not only providing the best dental services, but also giving you the information you need to make the right choices for your dental health. Using the most advanced dental technology is just as important as staying up to date on the latest treatment techniques. Our practice is dedicated to providing you with the safest and most convenient dental treatment options available.
Digital X-rays provide several advanced imaging options designed to save time, provide clearer dental photos, and expose patients to less radiation than traditional X-ray technology.
CT cone beam scans are quick and safe.Traditional x-rays capture two dimensional images of just one part of the smile.Cone beam scanner gives us the ability to accurately plan for the most advanced treatments. You can take advantage of a more complete dental treatment with digital CT imaging.
With an intraoral camera, we can see every aspect of your teeth and mouth with incredible detail: uncovering cracked teeth, plaque deposits, cavities next to fillings, and excessive wear. Designed to allow clinicians to capture and display digital images from inside a patient's mouth, intraoral cameras are a valuable tool for patient education and case documentation.
Our single-visit solution, CEREC crowns allows us to quickly restore damaged teeth with natural-colored ceramic fillings and crowns while saving our patients time and money. CEREC crowns offers natural-looking metal free, mercury free, crowns, bridges, inlays and onlays that are compatible with tissue in the mouth, anti-abrasive and plaque-resistant.