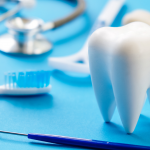 Our Top Oral Hygiene Tips for Oral Health Month
June 5, 2023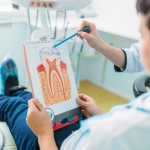 How to Strengthen Tooth Enamel
June 28, 2023
Dentistry offers various types of services – preventative, restorative, and cosmetic – based on what the patient needs. However, not everyone will need all types of dental services. Even if you don't immediately need restorative or cosmetic treatments, you still should know about the different types of dentistry and why each is important. Here are the answers to the common questions, "What is restorative dentistry, and why is it important?"
What Is Restorative Dentistry?
Restorative dentistry helps to fix or replace damaged or decayed teeth. The goal of restorative dentistry is to return the patient to a set of teeth they can typically use without pain.
Almost all dentists perform some types of restorative dental services, but some options, such as implant dentistry, are only available to dentists trained in implant surgery.  
If you need restorative dentistry, you can discuss your situation with the dentist to find a solution that you can afford and will work well with your lifestyle.
Why You Might Need Restorative Dentistry
There are several situations in which you may need restorative dentistry. For example, you may have cavities caused by missing areas when brushing, not flossing, or from a high-sugar diet. Some medications, especially those that cause dry mouth, can also contribute to dental decay and cavities.
Gum disease can cause tooth loss, as can traumatic injuries. Both of these situations may call for restorative dentistry to fill in the hole in your smile. Generally, if you have decay, a broken or cracked tooth, or a missing tooth, you will likely need to have dental restoration. Depending on the cause, you might need additional services first. For example, if you have gum disease, you'll need to have that treated before getting dentures, an implant, or a bridge. Without fixing the reasons behind your damaged or missing tooth, you could find yourself returning to the dentist for more repairs in the future. 
Types of Restorative Dental Treatments
Restorative dental treatments typically include the following:
Fillings
Root canal treatment
Crowns
Dentures
Bridges
Implants
Fillings and root canal treatment both serve the same purpose, to clean out decayed teeth and seal them to prevent future damage. The major difference between these procedures is the depth of the treatment. Fillings only apply to the top layers of the tooth, while root canal treatment goes deep into the tooth's canals. A crown can restore strength to a molar treated with a root canal. 
Dentures and bridges give you options for replacing several teeth on the top or bottom of your mouth. These artificial teeth close gaps in your smile or give you back the ability to chew if all your teeth are missing. With modern techniques and materials, dentures and bridges are more comfortable and fit better than ever.
Implants are the newest tool dentists use to help patients. These artificial teeth firmly anchor in the jaw for a lifelong way to replace a missing tooth. Some implants can even anchor complete sets of overdentures for a more natural feel. 
The many dental treatments for restorative dentistry help you to have a healthy smile that lets you eat a varied diet and speak clearly.
How Is Restorative Dentistry Different from Cosmetic Dentistry?
Thanks to the use of modern materials, when you get restorative dentistry, you can have a functioning smile that also looks great. Therefore, many restorative treatments also have cosmetic appeal, such as ceramic same-day crowns that blend into your mouth and restore strength to the tooth. However, the two areas of dentistry differ in their purposes and the conditions they treat.
First, cosmetic dentistry is usually an option when you have healthy teeth. The teeth and gums need to be healthy before a dentist will whiten the teeth or prescribe cosmetic restorations or Invisalign. These procedures are primarily done to improve the appearance of the teeth. Since your smile is the first thing many people see of you, cosmetic dentistry provides an invaluable service to your self-esteem and the beauty of your smile. 
Restorative dentistry also improves the look of your smile, especially if used to replace missing teeth. However, the first goal of restorative dentistry is to get your teeth's function back rather than to improve your appearance. A better smile is a bonus of some types of restorative dental treatments, such as dental implants or dentures. 
Why Does the Designation of Restorative Dentistry Matter?
The designation of restorative dentistry versus cosmetic dentistry matters. While many times cosmetic work can help in the functioning of a smile, some insurance companies see front crowns or veneers as a cosmetic treatment. If you need crowns or veneers on your front teeth, your dentist can usually check with your insurance provider to see if they classify it as a restorative treatment that they will help pay for or a cosmetic procedure they won't cover. 
Tips for When You Need Restorative Dental Services
Don't put off getting restorative dentistry if you need it. Decay will worsen and can lead to tooth loss. Even lost teeth become major issues with time. Missing teeth create a more severe problem in your mouth than you may realize. If you lose a tooth and leave it for several years, the surrounding teeth may slowly shift in your jaw to try to space themselves more evenly around the hole. Plus, the bone under the tooth will erode since it no longer has the tooth root to hold it in place. Restorative dentistry can help you to avoid tooth loss and implants can prevent bone loss. 
Visit Our Team at Matthews Family Dentistry for All Your Dental Needs
No matter what type of dental care you need, you'll find dental professionals at Matthews Family Dentistry to help. Our dentists cover needs that include preventative cleanings, restorative same-day crowns, and cosmetic whitening. Plus, we are one of the few area practices with certified sleep dentists who can help you stop snoring. Contact us today if you have additional questions or want to schedule an appointment. Our restorative dental services will help you get a pain-free and beautiful smile.