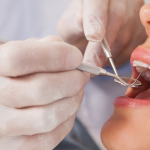 What is Restorative Dentistry?
June 28, 2023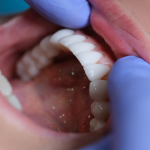 How Long Do Veneers Last?
July 21, 2023
Once you have your adult teeth, you must care for them to ensure they remain healthy for the rest of your life. However, one part of the teeth that many people forget is the enamel. This vital part of the teeth is tough, but it can weaken over time, leaving your teeth vulnerable to decay. Once gone, enamel never comes back. Preserve the health of your teeth in the future by focusing on strengthening your enamel now.
What Is Tooth Enamel
The enamel is a thin layer on top of the teeth that creates a barrier against physical and chemical damage to the more vulnerable parts inside the tooth. Enamel has an exceptional strength to provide this degree of protection. It is the strongest part of the body, even tougher than bone. The power of the enamel comes from its durable mineral makeup. According to the American Dental Association, minerals comprise 96% of the enamel. Loss of these minerals, a process called demineralization, causes the enamel to weaken over time and erode.
While the body cannot regrow tooth enamel that has worn away, you can take steps to stop enamel erosion by eliminating causes of it in your lifestyle. Additionally, you can adopt healthy habits to restore minerals to your teeth and enamel to keep them healthy and strong.
Causes of Enamel Erosion or Weakness
Enamel typically does not break off. Instead, it will often weaken and erode over time. Therefore, the most common causes of enamel weakness are those that slowly weaken the enamel through long-term damage. Some of the most common causes of enamel weakening or erosion include the following:
Acid reflux
Chronic vomiting, such as occurs in bulimia
Chronic alcoholism
Frequent consumption of acidic drinks or foods
Poor dental habits
Many of the causes of enamel erosion will need a doctor's assistance to stop. However, you can make lifestyle changes to address other problems, such as cutting back on acidic drinks and becoming more diligent about brushing and flossing.
What Are Signs of Weakened Enamel?
Weakened enamel has some distinctive signs. Watch out for the following to indicate you need to make changes to save your remaining tooth enamel:
Discolored teeth that may appear dull, gray, or yellowed
Cup-shaped indents on the tooth surfaces
Sensitivity to hot and cold foods and drinks
Roughened edges of the teeth
Pain in later stages of enamel wear
Talk to your dentist if you notice any of the above symptoms of enamel wear.
How to Strengthen Tooth Enamel
To avoid enamel loss and subsequent dental decay and sensitivity, take the following steps to reduce the rate of erosion and strengthen your teeth.
1. Maintain Healthy Oral Hygiene Habits
Good oral hygiene habits include more than simply brushing and flossing twice a day. You need to know when and how to brush.
First, avoid brushing your teeth too soon after having acidic foods or drinks. If you have a soda and brush your teeth immediately after, you can rub the acid into your teeth and hasten demineralization and enamel wear. Rinse out your mouth with water after having acidic foods or drinks, and wait half an hour to brush. This waiting time gives your saliva a chance to neutralize the acid in your mouth that could erode the enamel.
Similarly, if you are sick and vomit, rinse out your mouth with milk, baking soda rinse, or water to neutralize stomach acid that has washed over your teeth. Wait to brush after you have stopped vomiting.
When brushing, make sure to use a soft-bristled brush and handle it with a gentle touch. Brushing too hard or using a stiff-bristled toothbrush can physically wear away enamel, especially if demineralization has started.
2. Stay Away from Foods and Drinks that Erode Enamel
Cut back on acidic foods and drinks from your diet. Some of the most common culprits of enamel erosion include:
Sports drinks
Sodas
Sour candies
Sugary foods
Acidic fruits and fruit juices, such as citrus fruits and berries
While sugary foods don't directly cause enamel wear, these foods provide sugar to bacteria in the mouth. When the bacteria feed on starches, they release acid as a byproduct, which causes enamel and tooth decay.
You don't have to completely avoid all foods that promote enamel loss. You can enjoy them with meals as long as you rinse your mouth and brush your teeth after the meal.
3. Remineralize Enamel with Fluoride-Based Toothpaste or Mouthwash
Regularly brush with toothpaste containing fluoride. One of the minerals that make up the enamel is fluoride. Brushing with fluoride toothpaste applies this mineral directly to the surfaces of the teeth to assist in mineralizing the enamel. By using fluoride toothpaste, you help to avoid enamel wear and tooth decay. In fact, both reasons are why dentists often apply fluoride to your teeth after a cleaning.
4. Make an Appointment with a Doctor to Address Medical Causes of Enamel Wear
If you have acid reflux, also known as gastroesophageal reflux or GERD, you should talk to a doctor for treatment options. By getting medical care for this condition, you'll avoid the discomfort of chronic heartburn and reflux and protect your teeth.
Similarly, if you have a condition that causes chronic vomiting, talking to a doctor can help you to protect your body's health and the integrity of your tooth enamel.
5. See Your Dentist If You Have Signs of Weakened Enamel
Talk to your dentist if you have signs of weakened enamel. Your dentist can help you with options to slow the pace of erosion. For instance, if you grind your teeth at night, you can get a customized night guard to stop it and protect your teeth. Preventative dental care, such as cleanings and fluoride treatments, can slow enamel wear by restoring some minerals to the enamel.
The type of treatments your dentist can provide will depend on the degree of enamel wear and how much it affects your dental health.
Make an Appointment with Us at Matthews Family Dentistry
Regular dental visits are the best way to ensure that you keep strong tooth enamel. Call us at Matthews Family Dentistry when you need a top dentist in the Matthews area. We're happy to help you improve your teeth' health and keep your enamel strong.