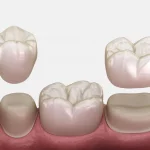 Same-Day Crown vs. Traditional
June 5, 2023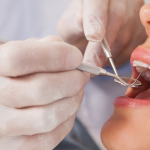 What is Restorative Dentistry?
June 28, 2023
Taking care of your teeth and gums benefits your entire body. You risk developing cavities, gum disease, or tooth loss without good oral hygiene. According to the Centers for Disease Control (CDC), these three conditions rank at the top in their negative impacts on your quality of life and health. In honor of Oral Health Month this June, we at Matthews Family Dentistry present these oral hygiene tips to keep your teeth and gums healthy. 
Think About What, When, and How You Drink
Everything that you eat and drink can impact your oral health. Drinking fluoridated water prevents cavities and quenches your thirst without sugar or caffeine. Reach for a glass of water as your first option for a drink for healthier teeth. 
Other types of drinks can harm your teeth. For example, sugary sports drinks or sodas offer a two-fold impact. The sugars in these drinks increase your risk for cavities, while the acid can wear down tooth enamel.
Wine, sodas, coffee, and tea have the potential to stain your teeth and make your pearly whites dingy and old-looking.
To mitigate the adverse side effects of these drinks on the appearance and health of your teeth, opt for drinking from a straw when possible to reduce the exposure of the teeth to the drink. Also, rinse your mouth with water or drink water after you have any of these substances. The water can minimize the damage from acid and staining elements.
Finally, brush your teeth after waiting for half an hour. The waiting period gives saliva a chance to combat the acidity in the drink. By waiting to brush, you avoid rubbing more enamel-harming acid into your teeth.
What you drink is essential to your overall dental health. If you already have a habit of drinking sodas, sports drinks, or coffees, try to cut back as much as you can and use the above tips to protect your teeth from damage. 
Create and Maintain a Good Oral Hygiene Routine at Home
If you don't already have a steady routine of caring for your teeth at home, create one now for everyone in your household. For example, set up a brushing and flossing routine as part of your waking-up and going-to-bed routines. You are less likely to forget about it if you incorporate oral hygiene practices into what you already do.
Make sure that you brush for two full minutes. Use a timer to ensure that you don't skimp on brushing. Also, flossing is equally as important as brushing. By cleaning between teeth, flossing helps to prevent cavities and keeps your gums healthy.
Remember to get your kids in on the routine, too. Developing and maintaining an excellent dental care routine early can help them keep their teeth and gums healthier for the rest of their lives.
Don't Put Off Preventative Dental Care
Preventative dental care is an essential part of keeping your teeth and gums healthy. Regular dental cleanings remove tartar from your teeth. Tartar can lead to gum disease and cavities because it holds bacteria against the teeth and gums.
When your dentist does regular checkups, they look for early signs of gum disease and decay. You may not have pain or discomfort at these early stages. However, early treatment means that you likely will avoid the pain of cavities or advanced gum disease. Plus, by getting your dentist to address these problems early, you avoid the risk of tooth loss that can impact your appearance, your capability to speak clearly, and your ability to eat the foods you want.
Preventative dental care plays a major role in your oral health and should become part of your oral hygiene routine.
Know How Your Body Affects Your Oral Health
Some conditions increase your chances of oral health problems. For example, smoking increases your chances of tooth loss dramatically. According to the CDC, among older smokers, four out of ten lost all their teeth. Stopping smoking and other tobacco use can reduce your chances of tooth loss, oral cancer, and other problems.
Make sure to keep up regular dental appointments and let your dentist know if you have any of the following conditions that impact oral health:
Pregnancy
Diabetes
Tobacco use
Heart disease
Immunocompromised
Temporomandibular joint (TMJ) disorder
Gum disease
Nutritionally deficient diet
The above conditions increase your risk of oral health problems. In some cases, you may need more frequent dental visits to help you maintain good health in your teeth and gums.
Keep Up with Changes in Your Mouth
While making regular appointments with your dentist will help them to spot problems early, you still need to pay attention to your teeth and gums between visits. When brushing and flossing, watch out for signs of developing problems, such as:
Bleeding gums
Red, painful, or swollen gums
Pain in a tooth
Chipped teeth
If you spot any of the above signs, you may have gum disease or decay setting in. You need to make an appointment with a dentist as soon as possible to have the issue addressed.
Have a Dentist You Can Trust for Lifelong Dental Care
Because your dentist is such an important part of your oral health, you need to have one you can trust. Having a dentist you trust for preventative care means that you will know exactly where to go if you have a problem. Don't let a dental emergency or urgent situation, such as a broken tooth, become your first visit to a dentist.
See Us at Matthews Family Dentistry to Help Maintain Good Oral Health for Life
If you need a great dentist who can help you with preventing problems or repairing dental issues, come see us at Matthews Family Dentistry. We have a team of professional dental experts who offer a full slate of dental care services. Contact us to schedule a visit or to learn more about what we do. Let us become your partners for great oral health.