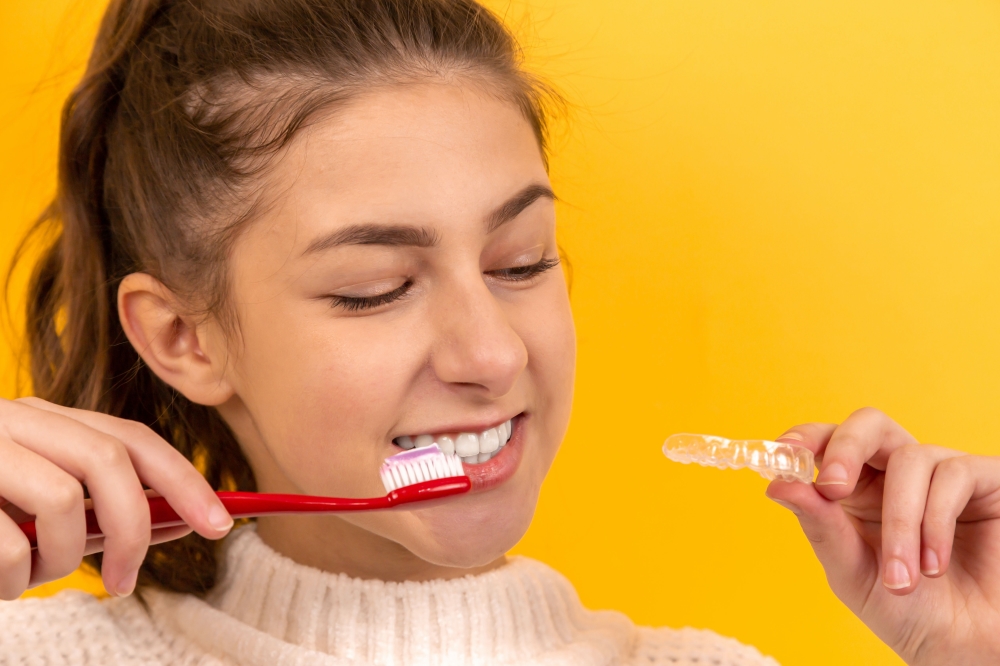 What is Cosmetic Dentistry?
July 15, 2021
How to Stop Snoring. A Dentists Perspective:
August 25, 2021
Part of our responsibility at Matthews Family Dentistry is patient education in finding the best way to care for their teeth between visits to our office. One of the things our patients want to know is where we stand on the debate of electric toothbrush vs manual toothbrush and which is best for them. The answer to this question is not as easy as one or the other for all situations. However, you may find a winner for your personal oral hygiene regime.
What Is Better a Manual Toothbrush or Electric?
When it comes to brushing your teeth, determining the best toothbrush can feel daunting. There are so many options for manual and electric models that you may feel dizzy by all the choices. First, understand the most important aspects of a toothbrush:
That you use it at least twice daily
You spend two full minutes brushing
Each tooth gets brushed on all accessible sides
You use a fluoride-based toothpaste for cavity prevention
Flossing is part of your regime either before or after you brush
Notice that all the above aspects of brushing can happen with any type of toothbrush. The most critical part is using your toothbrush correctly. Therefore, whether you choose electric or manual for your toothbrush, as long as you use it and brush your teeth regularly and thoroughly with it, that will be the best brush for you to use.
What Studies Show Concerning What Is Better – A Manual Toothbrush or Electric
An 11-year-long study showed that toothbrushes with electric, oscillating heads cleaned teeth better and helped to keep gums healthier. Over the course of the study, researchers found that those who used electric toothbrushes experienced 11% less dental decay and 22% less gum recession.
However, not everyone who used electric toothbrushes in the study initially wanted to use them. Among those who used electric toothbrushes, 13% got the device as a gift, while 34% needed their dentists to recommend the switch.
Electric toothbrushes cost more than manual toothbrushes. Plus, you need to have either batteries or an electric outlet nearby to keep the device powered. Therefore, some people find electric toothbrushes outside their means, especially if they have to supply a large family with dental supplies.
Manual toothbrushes do have an advantage over electric toothbrushes in a study that replicated using both for 8.5 years. The manual toothbrushes did not cause as much abrasion to the tooth surfaces as electric models, even when using the same force. Therefore, for patients concerned about preserving their tooth enamel, manual toothbrushes may be the better option.
Electric Toothbrush vs Manual Toothbrush for Adults
For adults, the choice of an electric or manual depends on how well you use the toothbrush. Whichever you choose, opt for soft bristles to reduce abrasion on the teeth and use gentle pressure when brushing. Adults generally have the dexterity and strength to wield either type of toothbrush easily. If in doubt, get a personalized recommendation from your dentist during your next preventative dental care appointment for a cleaning and an exam.
Electric Toothbrush vs Manual Toothbrush for Kids, Seniors, and Those with Special Needs
The benefit of electric toothbrushes for kids, seniors, and those with limited mobility is the ability of the toothbrush to do more work without the person needing to move more. The moving head reduces the effort needed during brushing for the individual using it. So, those with difficulty brushing each tooth individually with a manual toothbrush may benefit from choosing an electric toothbrush to get a more thorough clean. 
More Important Factors Than the Type of Toothbrush
While the type of toothbrush is something that you will use daily, there are more important factors for your oral health. You must still have regular dental appointments for cleanings and exams. A dental cleaning removes plaque and tartar that even the best electric toothbrushes can't brush off. You will also have exams for oral cancer, gum disease, and tooth decay during these visits. Your toothbrush cannot tell you about the health of your mouth the way your dentist can.
Additional benefits of regular dental visits include accessing professional cosmetic dental services such as tooth aligning with Invisalign or teeth whitening. However, for these cosmetic procedures to be effective, first, you have to have healthy teeth that come from maintaining good brushing habits at home and keeping regular dental appointments.
How to Use Your Toothbrush of Choice
How you use the toothbrush is more important than the type. To ensure success when using either electric or manual brushes, hold the brush with your fingertips to avoid putting too much pressure on your teeth and gums.
Also, keep the brush at a 45-degree angle. This angle allows your brush bristles to reach the spot where the teeth meet the gums, removing food stuck in this space, which could lead to gum disease or tooth decay.
Brush for two minutes using a separate timer or one on an electric toothbrush. Not brushing long enough reduces the effectiveness of the type of toothbrush you use.
Don't forget to get a new brush or brush head four times a year or after you've been sick. Worn-out bristles will not clean as effectively as new ones.
Schedule Your Professional Dental Exams and Cleanings with Us at Matthews Family Dentistry to Augment Your Daily Brushing
Daily brushing is important. However, you should also have your teeth professionally cleaned and examined twice a year. During these appointments, you have tartar and plaque removed from your teeth that brushing cannot. Plus, dental exams can identify if you have a growing problem that needs fixing before you experience pain. Because you put thought into the decision of electric toothbrush vs manual toothbrush for your daily oral hygiene, you should also carefully consider the dental office you partner with for your professional care. At Matthews Family Dentistry, we offer services for the entire family and a range of options, including cosmetic dentistry and snoring treatment. Contact us to schedule your visit and become part of our patient family.