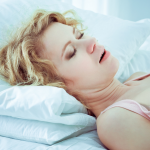 Signs You Have Sleep Apnea
August 30, 2023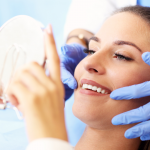 Veneers vs. Implants: What is the Best Option?
September 29, 2023
Mouth cancer, also known as oral cancer, can quickly appear and spread. Dentists perform oral cancer screenings to try to spot signs of this condition in its earliest stages when treatment has the greatest chance of success. Knowing what causes mouth cancer and how to reduce your risk can minimize the likelihood that you might develop this type of cancer.
What Is Oral Cancer?
Doctors classify oral cancer as one of the types of head and neck cancer, and it accounts for 3% of cancer diagnoses among Americans. It can occur anywhere in and around the tissues of the mouth, including at the back of the throat, under the tongue, on the roof of the mouth, around the gums, on the tongue, or on the lips.
Luckily, oral cancer has a high rate of survival if caught in the early stages before it spreads to other parts of the body. If the cancer remains in the mouth, the five-year survival rate is 84%, but it drops to 65% if the cancer spreads or metastasizes. During regular visits with your dentist, you'll also have screenings for oral cancer. Therefore, making twice annual visits to your dentist can improve the chances that the doctor identifies if you have cancer in its earliest, most treatable stages.
What Causes Mouth Cancer?
Oral cancer happens when cell growth inside the mouth goes out of control. Many lifestyle habits or conditions correlate to mouth cancer development, but these issues do not necessarily directly cause cancer. However, the following conditions have links to increased chances of mouth cancer:
Smoking or Tobacco Use
Smoking or tobacco use can lead to many types of cancer, including oral cancer. Whether smoking includes pipes, cigars, or cigarettes, the chances of developing oral cancer increase six times compared to non-smokers. Even more closely related to developing oral cancer is smokeless tobacco use. Those who chew tobacco have a 50 times higher chance of mouth cancer than those who don't.
Not smoking, though, does not mean that you'll never get oral cancer. A fourth of people diagnosed with oral cancer never smoked or used tobacco.
HPV Infection
Human papillomavirus (HPV) is so common that almost every sexually active person contracts this virus at some point in their lives. However, having HPV increases the chances of oral cancer. The connection comes from specific strains of HPV that have links to higher chances of oral cancer in those under 50. Consequently, everyone should have annual oral cancer screenings, regardless of age, to get early treatment.
Heavy Alcohol Use
High alcohol use correlates with developing mouth cancer. Heavy drinking presents a similar risk as tobacco use in raising the chances of having oral cancer.
History of Other Head or Neck Cancers
If you had previous treatment for any other types of head or neck cancers, you remain at risk for developing new cancers in the same area, including mouth cancer.
Weakened Immune System
Having a weakened immune system means that your body cannot fight off infections, such as HPV, as effectively. Therefore, you have a higher chance of those types of infections impacting your oral cancer risk.
Advanced Age
Most people who develop oral cancer are over 40, but cancers, even mouth cancer, can develop at any age. Talk to your dentist if you have any concerns or notice any changes inside your mouth.
Signs of Mouth Cancer
For most people, the first sign of mouth cancer is a sore inside the mouth that persists and does not seem to get better or go away. If you have any type of sore that doesn't heal after two weeks in your mouth, have your dentist or doctor look at it to see if you need a biopsy to determine whether you have mouth cancer.
Other signs of mouth cancer include the following:
Patches inside the mouth with red, white, or speckled coloring
Swollen glands in the neck
Drastic weight loss
Pain or swelling in the jaw
Changes in how your teeth align or fit together
Difficulty chewing or moving your jaw
Ear pain, which could indicate referred pain from the mouth or throat
A feeling of something stuck in the throat
Lump inside the mouth
Oral pain
Having any of the above symptoms does not mean that you have cancer. However, they do indicate that you need to see your dentist for a closer evaluation—many of the symptoms of oral cancer overlap with dental problems. You need a professional to examine you to find out whether you need cancer testing.
How to Protect Yourself from Oral Cancer
You can do some things to reduce your chances of developing oral cancer or getting early treatment for it.
First, if you use any form of tobacco product, quit. While some non-smokers do develop mouth cancer, you significantly reduce your chances by foregoing tobacco use.
Second, cut back on alcohol use. Heavy drinking correlates to higher cancer risks. Reducing your intake of alcohol can help to keep your entire body healthier, including lowering your mouth cancer chances.
Third, enjoy a healthy diet with plenty of fresh fruits and vegetables. With a balanced diet that includes foods packed with vitamins and minerals, you help your whole body to maintain good health.
Fourth, don't neglect your dental appointments. Dentists serve at the front lines as the first doctors to identify problems inside the mouth that could be oral cancer. By having regular exams, you may not reduce your chances of developing cancer, but you do have a better chance of getting treatment early when survival rates are at their highest.
A healthy lifestyle overall can reduce your chances of developing oral cancer, but because even people with good habits and health develop cancer, you still need to get regular screenings from your dentist.
Get Regular Oral Cancer Screenings and Great Dental Care at Matthews Family Dentistry
Good oral care starts with keeping your teeth and gums healthy. See our team of dental professionals at Matthews Family Dentistry for the dental care you need. Contact us for an appointment to get oral cancer screenings, a dental checkup, professional cleaning, cosmetic dental services, or snoring consultation. As we say at our practice, "Happiness begins with a smile." Let us help you to get a healthy smile.