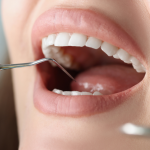 What Causes Mouth Cancer
September 29, 2023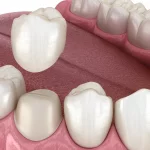 What is a CEREC Crown?
October 31, 2023
Everyone wants a great-looking smile, but tooth loss or damaged teeth can impact how your grin looks. Veneers and implants offer ways to repair damaged smiles. These solutions work to correct different problems, though. So, the better option will be the one that your dentist recommends based on the health of your teeth and dental concerns.
Comparing Veneers vs. Implants: What Are They?
Veneers and implants have different uses and definitions, though both can help make your smile look better. The first stage in comparing these options is knowing what each is.
What Are Veneers?
Dental veneers consist of very thin pieces of lab-created porcelain that fit over the front parts of healthy teeth to correct minor cosmetic flaws. You need to have a healthy tooth in place to support the veneer.
Unlike bonding, which doesn't last as long, veneers are irreversible since the dentist needs to prepare the teeth for them by removing enamel.
When you wear veneers, the teeth supporting them can still experience decay, so you need to continue to have good dental hygiene. Avoid putting your veneer-covered teeth under excessive pressure, which can happen from teeth grinding or biting down on hard foods.
Once you have your veneers placed, they should last for ten years or longer. Many patients can enjoy up to 20 years from their veneers before needing to have them replaced due to scrupulous care of their teeth and veneers.
What Are Implants?
Dental implants replace missing teeth in your mouth or support dentures to replace all of your upper or lower teeth. These dental fixtures are permanently fixed into your jaw.
Each implant includes a titanium screw the dentist places inside your jaw, the abutment on top of the screw, and the crown that fits onto the abutment as a permanent tooth replacement. For those who wear implant-supported dentures, the abutments support the denture arch.
Thanks to the design of implants, which closely mimic natural teeth, you have a replacement for a missing tooth that functions, looks, and feels completely natural. Plus, when you have implants, you avoid the natural bone loss that happens when you lose a tooth. The implant screw stimulates your jaw to maintain its bone density and structure.
For implants, you need to dedicate several visits to the dentist, but your finished implants can last a lifetime.
Implants vs. Veneers: When Do You Need Them?
Implants and veneers serve different purposes. Dentists recommend each in specific situations, so you will likely need one or the other. Needing both veneers and implants would only happen if you have a tooth that needs cosmetic correction and a missing tooth that needs a replacement.
When Veneers Help
Veneers restore minor appearance problems with your front teeth. For example, if you have a gap between your front teeth, the dentist can place veneers on your two front teeth to cover the space between them and conceal the gap.
If you have individually discolored teeth, which some people have after root canals or trauma, a veneer covers the discoloration, hiding it from view.
Minor chips or misshapen teeth also benefit from the ability of veneers to fit over the front of the tooth and hide problems.
Basically, your dentist will fit you with veneers if you have healthy teeth that don't look great when you smile.
Why You May Need Implants
Implants can replace any missing teeth in your mouth, not just those on the front. By getting a dental implant, you avoid the issues that missing teeth cause:
Teeth misalignment from other teeth shifting into the gap
A hole in your smile
Bone loss at the site of the missing tooth
Dentists can replace one or even all of your teeth with single-tooth implants or implant-supported dentures. So, if you need a tooth pulled or already have a missing tooth, talk to your dentist about implants.
Processes for Getting Veneers vs. Implants
The processes for veneers and implants are very different. The former is non-surgical and doesn't even need anesthesia. The latter requires surgery to ensure proper placement of the screw and other implant parts.
How a Dentist Places Veneers
When you get veneers, the dentist will need to prepare your tooth for the thin shell by removing a little of the enamel. This shaping process does not cause pain but makes the process irreversible.
After getting images of your teeth to send to the lab techs who create the veneers, you may need to wait a couple weeks before your final, custom-produced veneers arrive at your dentist's office.
The dentist will then bond the veneers to your teeth to finalize the process and give you a restored smile.
When wearing veneers, keep your natural teeth clean and bright because they can stain while your veneers remain unstained, which causes them to stand out. With good care, you can have your veneers for ten years or more.
What Happens When You Get Implants
When you get dental implants, the dentist schedules several visits to ensure that your mouth heals properly between them. First, you'll have the titanium screw implanted into your jaw. After this surgery, you will wait as your jawbone fuses with the screw. Once healed, you'll have one or two additional procedures to place the abutment and crown or dentures.
Implants produce long-term results, and you may only need repairs or replacement of the crown tooth replacement or dentures. No one will be able to tell that you have implants in place because they look so much like regular teeth. In fact, because they feel just like natural teeth, you may even forget that you have implants, too.
Consult with a Dentist to Find Out Whether Veneers or Implants Will Help Your Smile
Let us at Matthews Family Dentistry help you to get a more beautiful, complete smile. Our dentists offer many cosmetic procedures, including veneers and implants. Contact us and set up your visit for a consultation to see how we can improve your smile.