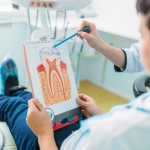 How to Strengthen Tooth Enamel
June 28, 2023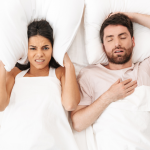 What is Oral Appliance Therapy?
July 22, 2023
Thinking of improving your smile with dental veneers? One of the most common questions we hear from our cosmetic dental patients is, "How long do veneers last?" As with all dental work, the answer depends on how well you care for your teeth around the fixtures. However, most people enjoy years of showing off their improved smile when they choose dental veneers.
What Are Dental Veneers?
Dental veneers are one form of cosmetic dentistry that your dentist may use to correct problems with the appearance of your front teeth.
Each veneer is a very thin piece of ceramic material that the dentist bonds to a prepared tooth. To get the appropriate shape, color, and size of veneers for your mouth, the dentist will carefully work with you to custom-order a set of veneers.
Lab techs custom-create dental veneers using durable porcelain materials based on the customization requests and your teeth molds or 3D images that your dentist made. The ceramic or porcelain makeup of veneers makes them stain resistant and capable of lasting for years.
The dentist prepares each tooth to place the veneers by removing a very slim layer of enamel. Due to this preparation method, you cannot change your mind and have the veneers removed. Most patients feel comfortable and satisfied with the improvements veneers give their smiles, though. So, it's unlikely that you'll change your mind.
While you will need at least two visits for your dentist to set the customization parameters for your veneers and later place them, the process gives you a beautiful smile that you want to show off to everyone.
Who Can Benefit from Dental Veneers?
Dental veneers are cosmetic treatments that cover only the front parts of your teeth. Therefore, they don't fix problems with the health of your teeth. If you have dental problems, such as decay, your dentist will need to fix those before preparing your teeth for veneers.
You may benefit from dental veneers if you have any of the following issues with one of your front eight teeth, which are the most common places for veneers:
Individual tooth discoloration, for instance, from decay or after a root canal
A chipped tooth
Too short teeth
Gaps between teeth
Uneven teeth
Talk to your dentist to see if your smile can improve with dental veneers. If you think you might change your mind about wearing veneers after their placement or cannot care for your teeth properly, you may need an alternative, such as bonding or crowns.
How Long Do Veneers Last?
According to a study, dental veneers have a 93.5% chance of remaining intact for up to 10 years. In the same study, veneers, after 20 years, still had a survival rate of 82.93%. Consequently, you can expect your veneers to last for 10 to 20 years if you care for them and your teeth.
Factors That Impact Veneer Lifespan
The actual life of your veneers depends on multiple factors, including how well you care for your teeth and avoid habits that damage the veneers. If you do everything recommended by your dentist to preserve your new cosmetic additions, you'll have a brilliant smile for the next two decades.
Maintaining Tooth Health
The health of your teeth that support the veneers is essential to keeping your smile looking great. Because veneers cover only the front of each tooth, you must maintain exceptional care to prevent decay in the exposed portions of each veneer-covered tooth.
Regularly brush and floss around all your teeth twice a day. You must check in with your dentist twice yearly for exams and cleanings. These basic steps of oral care can help you to maintain the integrity of the teeth supporting the veneers.
Additionally, because your teeth are porous and veneers are not, you must maintain good oral hygiene to avoid staining your natural teeth. If you have discoloration on your teeth that don't have veneers, they will stand out and look unusual. Protect your teeth from stains by avoiding coffee, tea, sodas, and red wine or rinsing your mouth with water after drinking these substances.
Protecting Your Veneers
To maintain the longevity of your veneers, you will also need to protect them from damage. Though porcelain is tough, it also can crack under excessive pressure or sudden impacts.
If you participate in high-impact sports, always wear a mouthguard during play. This piece also protects your other teeth from breaking or getting knocked out.
Talk to your dentist about a customized night guard to protect your teeth and veneers if you grind your teeth in your sleep. Your partner might complain about the grinding noises your teeth make at night, or you may wake up with headaches and jaw pain in the morning. Grinding your teeth can cause cracks in your natural teeth and do the same in veneers.
Never use your teeth to open packages or bottles. Using veneer-covered teeth this way increases the chances that you can chip or break the veneer. If damage to the veneer occurs, you'll need to have the entire piece replaced because the dentist will not be able to repair the problem.
Similarly, use extra care when you eat hard foods. Don't bite down on hard candies, nuts, or meat with bones using the veneer-covered front teeth. Try to avoid these foods as much as possible, cut them into smaller pieces, or bite using your molars.
Break yourself of habits of biting down or chewing on non-foods, such as pencils or ice. Habitually eating ice or chewing on pencils can damage your veneers, natural teeth, or both.
Protecting your veneers from physical damage can extend their longevity, raising the chances that you can enjoy them for a full 10 to 20 years before needing to replace them.
Come See Us at Matthews Family Dentistry to See If Veneers Can Improve Your Smile
Dental veneers last for a decade or longer, especially when you care for your teeth and protect the veneers. If you want ten years or more of a more beautiful smile, come see us at Matthews Family Dentistry. We offer veneers and dental bonding to improve smiles by hiding chips and unevenness. Find out which of these solutions is best for you. Call us today to set up your appointment and see the difference a better smile can make in your appearance.