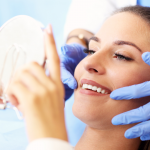 Veneers vs. Implants: What is the Best Option?
September 29, 2023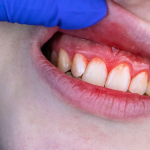 Why Do My Gums Bleed When I Floss?
October 31, 2023
When you have restorative dental treatment, part of the process may include getting a crown. This replaces the top portion of the tooth to strengthen a treated tooth or serve as the top of a dental implant. The process of getting a crown now requires a single visit, thanks to the invention of CEREC crowns. However, are CEREC crowns the right choice for you? Find out more about this technology.
When You Might Need a Dental Crown
Dentists recommend getting crowns to correct cosmetic or structural issues with a tooth. The crown has the shape of a tooth and can have different characteristics depending on the material used. Many dentists today opt for ceramic crowns because they blend in with your other teeth. It either sits on top of your natural tooth or atop the screw of a dental implant.
One of the most common reasons for needing a crown is if you have had a root canal on a molar. Root canals can leave the tooth more brittle. When a dentist covers the treated tooth with a crown, it restores strength to the tooth, reducing the chances of future damage to the area.
Crowns can also support teeth that have minimal remaining natural tooth structure. Many times, due to large older fillings that are failing or fractures in teeth, there is not enough tooth structure left to build upon. In these cases, crowns can be used to extend the life of weaker teeth. Crowns that extend across multiple teeth are called bridges. They are generally used as a way to replace missing teeth. In some cases, the crowns may fit over your natural teeth or atop dental implants to support the fixed bridge. The number of teeth you have missing, and the health of your remaining teeth will help your dentist determine if an implant-supported bridge or placing the crowns on your natural teeth will suit you better.
Finally, crowns may serve as replacement teeth atop dental implants. An implant consists of three parts. Anchored to your jaw is the titanium implant fixture that will support the artificial tooth. The abutment sits atop the implant and accommodates the crown. The crown looks like a regular tooth. Because it has a sturdy anchor, it also feels like a natural tooth.
Crowns are so common that dentists recognized the need to get their patients fitted with permanent crowns more efficiently. The solution used by advanced dental practices is the CEREC crown.
What is a CEREC Crown?
CEREC crowns get their name from the acronym for Chairside Economical Restoration of Esthetic Ceramics. This extended name indicates that you can get a ceramic crown that looks like a natural tooth while waiting.
Before introducing CEREC crowns, if you needed a crown on a tooth, your dentist would create a mold of your tooth to send to a lab, which would make your crown. Since the process of lab-made crowns can require up to three weeks, dentists fit their patients with temporary crowns until the permanent one arrives.
This method requires more waiting for your permanent crown, more trips to the dentist, and the chance that your lab-made crown won't fit when it arrives. In the case of the last event occurring, you would need to wait another two to three weeks for the lab to make a new crown.
Your dentist creates a CEREC crown while you wait in the office. You no longer have to wait weeks or deal with a temporary crown.
CEREC Crown Technology
The technology behind CEREC crowns uses advanced computer software and tools to create crowns in the office. A combination of digital imaging, software processing, and exacting milling ensures that you have a well-fitting crown while you wait.
First, the dentist takes images of your tooth with a high tech camera. Your dentist doesn't need to create a physical mold of your tooth. The camera sends the images to the computer-aided design (CAD) software. This program uses computer-aided machinery (CAM) to direct the milling equipment to create your customized crown.
The machinery takes a few minutes to create the crown. You can briefly rest after your crown scanning to check emails or make phone calls.
Once the machinery completes the crown creation, it is put into a furnace to achieve its final strength and color. Your dentist will then bond it in place for a permanent crown that fits precisely.
What Are the Advantages of CEREC Crowns Over Traditional Crowns?
Patients who choose dentists offering CEREC crowns benefit from this high-tech dental solution.
First, these crowns reduce the time required for a permanent restoration. You get your crown on the same day as your appointment instead of waiting for weeks.
Second, CEREC crowns use ceramic materials to ensure that you have a beautiful cover for a tooth that looks natural. Some traditional crowns may use gold or other metals, which can ruin the aesthetic of your teeth.
Third, because you need fewer dental visits, CEREC crowns offer a more economical option than traditional crowns. In fact, the word "economical" is one part of the name that creates the acronym for this dental solution.
Finally, with CEREC crowns, you avoid the potential problems that can occur from wearing a temporary crown or having a lab make your crown. A temporary crown does not function as well as a permanent one. You must avoid chewing with that side until your permanent crown comes in because the temporary model can break or fall off. A missing temporary crown puts your tooth at risk of damage until you get your permanent crown. You keep your tooth protected by getting your final crown on the first visit.
Where Can You Find CEREC Crowns?
Not all dentists offer CEREC crowns. They need to invest in the equipment and undergo training in how to use it. Therefore, many dentists opt to provide only traditional crowns made in an outside lab to their patients.
In the Charlotte area, you'll find CEREC crowns and other high-tech dental tools and services at Matthews Family Dentistry.
Visit Matthews Family Dentistry for CEREC Crowns and Other Advanced Dental Care
Single-visit CEREC crowns are one of the many types of advanced dentistry we offer at Matthews Family Dentistry. Come see us for your dental needs, including exams, restorative treatment, and help for sleep apnea. Contact us to schedule your visit or to learn more about our advanced dental offerings.